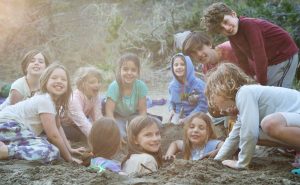 Get ready to register for 2023 summer camp! Registration begins on November 1st at 7am* PDT.
Here are some tips and FAQs to help you prepare.
*Please note the time change (previously 9am PDT).
To register, please follow this link or sign into your UltraCamp account and select the session you are interested in. When you register for a session, you can pay for it in its entirety, or you can choose to pay the $75 deposit ($100 for Mother Child/Friends & Family camps). If you prefer, you can set up a payment plan on the checkout page. We also have financial assistance available – click here for more information!
There are some changes to your registration process this year. In order to make our registration process more inclusive, you may only register for one session per camper. Additionally, you can now select different sessions for multiple kids and register them all at once. No more registering one kid at a time! UltraCamp will automatically place a hold on the selected sessions so siblings won't have to worry about one of them losing their spot if reservations are filling up. Please note: all campers being registered together must be on the same account.
We are also thrilled to announce that you can now select a gender-neutral/co-ed cabin option for your camper(s)! You will see this question listed during the registration process along with the Cabin Request option.
If you haven't had a chance to view our 2023 Summer Calendar and review our youth, teen, or family camp programs for next summer, make sure you do so ahead of time so that you know which session to register for!
If you have questions or need assistance, we will have staff available all day to help you. Due to our limited number of staff, the fastest response will be via email. Please contact us at info@westwind.org, or call us at (541) 994-2383 or (541) 921-5210. We will respond as soon as possible. If the system crashes, you do not need to contact us. Please be patient; we will be working as fast as we can to fix it.
We've also tried to answer some of your questions ahead of time:
I'm worried I won't get in because you always fill up so quickly. What are some tips or things I can do to prepare for registration?
Have all your campers listed on your account before registration opens.

Be sure to include their accurate age and grade. Our youth and teen camps base session availability on grade, while our family camps are based on age. Please use the grade your camper is in currently. The system will automatically adjust for the grade they will be in next year. For example, if your camper is currently in 8th grade, it will automatically adjust for 9th grade and show you the teen options.

When you get to the Camper Health History form, you can scroll to the bottom of the screen, mark the form as incomplete, and skip ahead. Remember to go back to the form later! This is important information that will help your camper have a successful experience.
So what should I do if the session is already full and I can't get in at all?
Join the waitlist! You should see this as an option if the session you want is full. It is 100% free to join the waitlist, and you can join more than one session. Spots will inevitably be shuffled around as we prepare for summer, so there's always a chance to move off the waitlist.
As additional spaces open up, we will email the first person on the waitlist that matches the demographics of the open spot; once the email is sent, you have 48 hours to confirm. Once confirmed, we will accept the reservation and ask that you log in to pay the $75 deposit and complete the online forms (such as the Camper Health History).
If I join a waitlist, how do I know what my odds are that we will later get accepted?
Determining the status of your child on the waitlist can be a complicated answer, and unfortunately, we cannot always give you the most accurate information regarding the likeliness of your child getting a space. We are happy to discuss this with you in more detail, and we try to be as realistic as possible.
We pull campers from the waitlist based on the demographics of the vacancy. For example, your child could be the 18th person on the overall list but the 1st in their grade/gender so they are then called up first. Oftentimes we will reach out to several people down the waitlist before we are able to find a placement. If applicable, it is helpful for families to let us know when they are no longer interested or available for a session that they are waitlisted so that more potential space can be made for other families.
We tend to see more movement in the spring as summer plans solidify and sports schedules are released. Your patience is appreciated.
How do I know that camp is going to be safe for my child or that you won't cancel close to the summer?
We will continue to be transparent about our decisions and any other information that informs our planning for summer 2023. For specifics on what we have been doing and how we are adapting, please visit our COVID FAQ webpage or contact us for more information.
Will you require a COVID vaccination for all campers?
We currently require either proof of vaccination or a negative test result taken within 48 hours prior to camp. We do not yet know if we will require all campers to be vaccinated and likely will not know before November 1st. If you have concerns or questions, please contact us.
What if my camper wants to go with a friend or multiple friends?
As a part of the registration process, there is a section where you may indicate a cabin-mate request. We do our best to accommodate every request; however, we cannot put two campers together that are more than one grade apart (i.e., we will not put a 5th grader in a cabin with a 7th grader). If you feel you qualify for an exception, please email info@westwind.org.
You can find even more FAQs on our website! Good luck with your planning. Please feel free to contact us with any questions or concerns.
Thank you,
Laura "Denali" Chase