Friends & Family and Mother Child Camp
Our all-inclusive four day/ three night Friends & Family camps are for families, couples, groups of friends, or individuals of any age looking to get away to Westwind!
Also all-inclusive four day/three night Mother Child Camps are for moms, stepmoms, aunts, grandmas, sisters, all/any female-identifying and mother-identifying parents or mentors, and children ages 3-13.
The schedule for all family camps includes programming for everyone! Blocks of "Family Time" activities offered include: arts & crafts, canoe & kayak, challenge course, hike, GaGa ball, and various other camp activities. During "Adult Time," kids go with age specific small groups that Westwind calls "color groups". In these color groups, kids decide with their Westwind staff leader what they want to do like hike, play on the beach, games, art and more. While the kids are off playing and enjoying nature, adults get to choose if they want to get a massage, go on a hike, do art projects, play games,  paddle in a kayak or just sit on the beach and enjoy reading a book.  At each family camp, Westwind Teen Volunteer Babysitters come to assist with the kids both during the days and at night so adults can enjoy time together.
*Please note you will likely be sharing a cabin another family due to our high numbers of participants and logistics surrounding lodging and keeping full families together. When assigning cabins, we do our best to match similar ages of children and honor all requests. If you have any questions regarding lodging or cabin assignments, please contact our office or email us at info@westwind.org.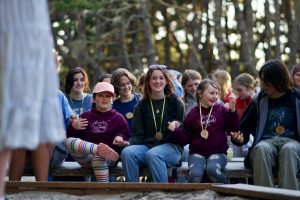 2023 Dates:
Mother Child A: July 15-18
Friends and Family Camp A: July 19-22
Friends and Family Camp B: July 29-August 1
Mother Child B: August 2-5
Cost: $435 per adult $330 per child
Fall Family Camp A: October 13-15
Fall Family Camp B: October 20-22
Cost: $220 per adult $165 per child
Camperships (financial aid) available
---
Downloads
---
Family Camp Teen Babysitter Volunteers
During Westwind's Family Camps, Teen Babysitter Volunteers play a huge role! This is a great opportunity to spend time at Westwind while at the same time gaining experience working with children!
Roles as a volunteer babysitter:
Helping summer staff with Color Groups (activity groups made up of children of a similar age)
Babysitting in cabins in the evenings (may entail bed time routines, reading stories, playing games, etc.)
Sitting with families at meals and helping with camp meal time routines
Babysitting during activity blocks (families may sign up for a babysitter during daytime activity blocks)
Singing camp songs and performing with campers at talent shows and campfires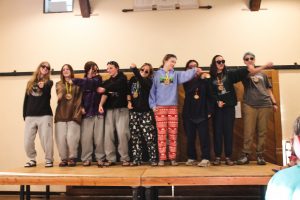 Applications will open on January 1st, 2023. Apply using the link below:
Apply here!
Applications are posted through your camp account. Please sign into your camp account (may need parental or guardian help to be signed in). You will find the application located in the 'Document Center' found under the 'Additional Options' tab. Applications are found in the left column under 'Online Forms'.
All applicants must be at least 14 years of age by July 1, 2023.
Please feel free to contact us with any questions: volunteer@westwind.org