A Tale of Two Ferries
It was a calm, warm summer evening and the tide was a perfect 6.0. The Nana and The Ina waited patiently to begin the longest journey of their already storied lives. They were headed to Garibaldi.
Westwind's ferries had been beached since the end of 2019 and had taken quite a beating from the elements. Both motors needed repairs. Both boats needed welding, electrical work, and more. Not to mention the wear and tear on their aesthetic appearance. In order to get them back and running, we needed to get the boats from the banks of the Salmon River up to Garibaldi, an hour up the coast, to be serviced.
With the help of an expert team composed of our Site Manager, Brian Klippert, Westwind co-founder and ferry advocate, Duncan Berry, and a local boat hauler from Astoria, we were successfully able to get the ferries across the river and up the coast to be serviced.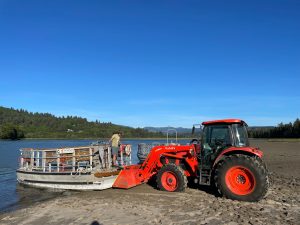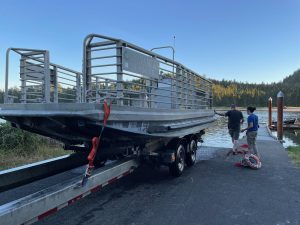 For two weeks we eagerly awaited the ferries' return. And then, finally, the moment came. The boats were returned safely to the Knight Park loading ramp! The ferries exuded a fresh sense of confidence. The electrical systems were intact. The motors fired up on the first try. And then, almost as if they had never left, the ferries took to the river like giant metal ducks to water, so to speak. They were home.
Even with the Nana and Ina safely anchored on Westwind's shores, we were not out of the woods yet. They had to pass one final test: the Coast Guard inspection. With the inspection date drawing closer, our team readied the ferries with the appropriate number of labeled life preservers, and all of the paperwork needed to pass the inspection. I's were dotted and T's were crossed just in time for the Coast Guard's visit.
We passed with flying colors. In large part due to the help of former Westwind Site Manager and Ferry Captain, Scotty Evans (thank you, Scotty!) With our freshly inspected ferries, we were now river legal. All we needed now was a roster of qualified Ferry Captains. Ferry Captains ASSEMBLE! (Seriously though, if you or anyone you know has the proper certification and desire to run our ferries, please do reach out to us.)
And that, for now, is the Tale of Two Ferries. We are grateful to once again have the use of these two iconic beauties, and we hope that you too will enjoy them for many seasons to come.