Visit Westwind: Visitors' Day
Visitors' Day 2019 (June 15, 2019)
Interested in summer camp or any of our other programs, but want to check it out before your make the plunge? Come along to Visitors' Day this June and spend the day at Westwind to check out what's new and spend the day at the beach!
Upcoming Alumni Events: Alumni Social & Alumni Retreat
Alumni Social  (April 13, 2019)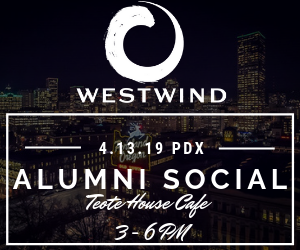 Join us next saturday for a casual, fun, happy hour to meet up with other Alumni in the Portland area. Delicious appetizers will be provided – all we need is you! Register today!
Alumni Retreat (June 20 – 22, 2019)
In June, join us for the Alumni Retreat at Westwind, a two-night, three-day event designed to reconnect alumni with Westwind and of course each other! This multi-generational event will feature great food, new activities, and fun ways to enjoy Westwind.
New Camp for Adults! Artisan Camp: Registration Opens May 2

Learn new skills and make a finished product under the expert guidance of professional artists and art instructors. Select a project of your interest and spend a beautiful weekend at Westwind exploring it further. All levels of experience (or inexperience) are welcome! Click to learn more.