The last week has been quite a tumultuous time for Westwind. Beginning with a historic windstorm last Monday night, Westwind was forced to evacuate all guests and staff for their safety. Fallen limbs, trees blocking the road, and even the destruction of some of our tents marked it a storm for the ages. Thankfully all guests and staff were not harmed and were able to get home safely.
That same storm caused several wildfires to start and spread incredibly quickly. Within what feels like just hours after getting everyone out safely due to the windstorm, the Echo Mountain Complex fire that began several miles East of Westwind along HWY 18 was making fast headway straight towards our beloved camp.
Upon nearly reaching the eastern edge of the property, just up to the opposite side of HWY 101, the fire turned to the south and did not burn any of the property. While we feel incredibly grateful for our outcome at Westwind, we are heartbroken for our community in Lincoln County, many of whom lost their homes, and for all our families in Oregon who have lost so much from these fires, and are still under threat. Our hearts go out to you all.
Westwind will be focusing over the next few days on our immediate clean-up and recovery, and we hope to reopen to guests as soon as it is safe to do so.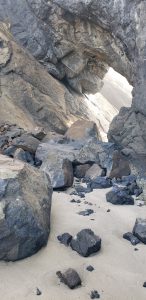 Thank you for all your kind words, thoughts, and concerns for Westwind over the last several days.
Sometimes we realize how much we truly love something when we nearly lose it. Thankfully, we can continue to steward Westwind's beautiful landscape. If you are in a position to help Westwind with our recovery from these storms (and COVID-19) by making a donation, we truly appreciate it. 
Many in our community are also in need of help. Here is a link to Oregon's Wildfire Resource page, where you can get information if you are in need of assistance, resources, or are looking to volunteer or donate. 
Cheers to brighter, sunnier (and rainier!) days ahead.
Thank you so much for your support.
Westwind donor Aaron Keim has generously donated one of his hand-made ukuleles for this year's Virtual Tunes in the Dunes Event. Crafted using Hemlock sourced from Westwind, click to learn more about how it was made, and hear its beautiful sound! The proceeds from this auction will be donated to Westwind!