Always dreamed of finishing your camper journey in a two-week program filled with fun and learning? Apply today for the program that ties it all together!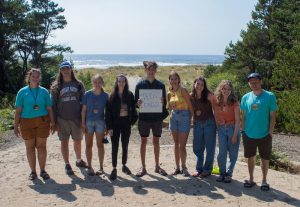 This two week program is a wonderful opportunity to enhance and develop self-confidence, self-awareness, communication skills, tolerance for adversity, and a personal leadership style. As a follow-up from Teen Leadership 1, your training as a TL2 will begin from the time you step on to the ferry and will take you to where you feel more confident and comfortable with your skills as you graduate from being a camper to becoming a leader in your community, and possibly as a future Westwind staff member. This is an endless opportunity to be challenged, to practice your leadership and use your creativity, to be a positive role model, and to make new friends. Apply now to join our amazing TL2 program where you will experience the challenges and wonders of two inspiring weeks at Westwind!
*While completing the Teen Lead 2 program is not a requirement to one day become a Westwind staff, it provides you with helpful and meaningful skills.
Teen Leadership 2 Eligibility & Description
Must be 16 years of age,  in high school and have completed one camp session of Teen Leadership 1
Shadow cabin with up to ten campers and assist with the leadership and guidance of campers
Leads and assists everyday counselor responsibilities receiving constant feedback
Responsible for interpreting the rules, policies, and traditions of Camp Westwind to campers
Must have a "Kids First" vision and place the camper's safety and camp experience first
Must have interest in, concern for, and the ability to work with children as well as the ability to understand
Responsible for motivating camper participation in camp programs, cabin activities, and meals
Must encourage a fun, positive, and safe environment within the parameters of the Westwind mission
Assist with TL2 service projects around Camp Westwind
TL2's must be available for both sessions and will be expected to go home between sessions
This progressive program provides opportunities for constant feedback and individualized training for those interested in becoming a future Camp Westwind staff or active community member
Teen Leadership 2 registration will be open to applicants who are selected after completing an application and interview. Typically, there are 12-14 spots for the Teen Leadership 2 camp.