Entry no. 5 – April 24, 2020
By Scotty Evens, Site Manager & Ferry Captain
It has definitely been a spring week here at Westwind. Mother nature has had a hard time making up her mind.  Sun, rain, wind, marine layer, we have had it all. That's what keeps it so interesting. Change is constant.
Nature has been trying her best to retake the land this week. The plants have been attempting to fill in the dots. Ferns and native beach grass have started to grow and sprout in the high traffic areas. Tenacious and persistent are words I would use to describe their activity.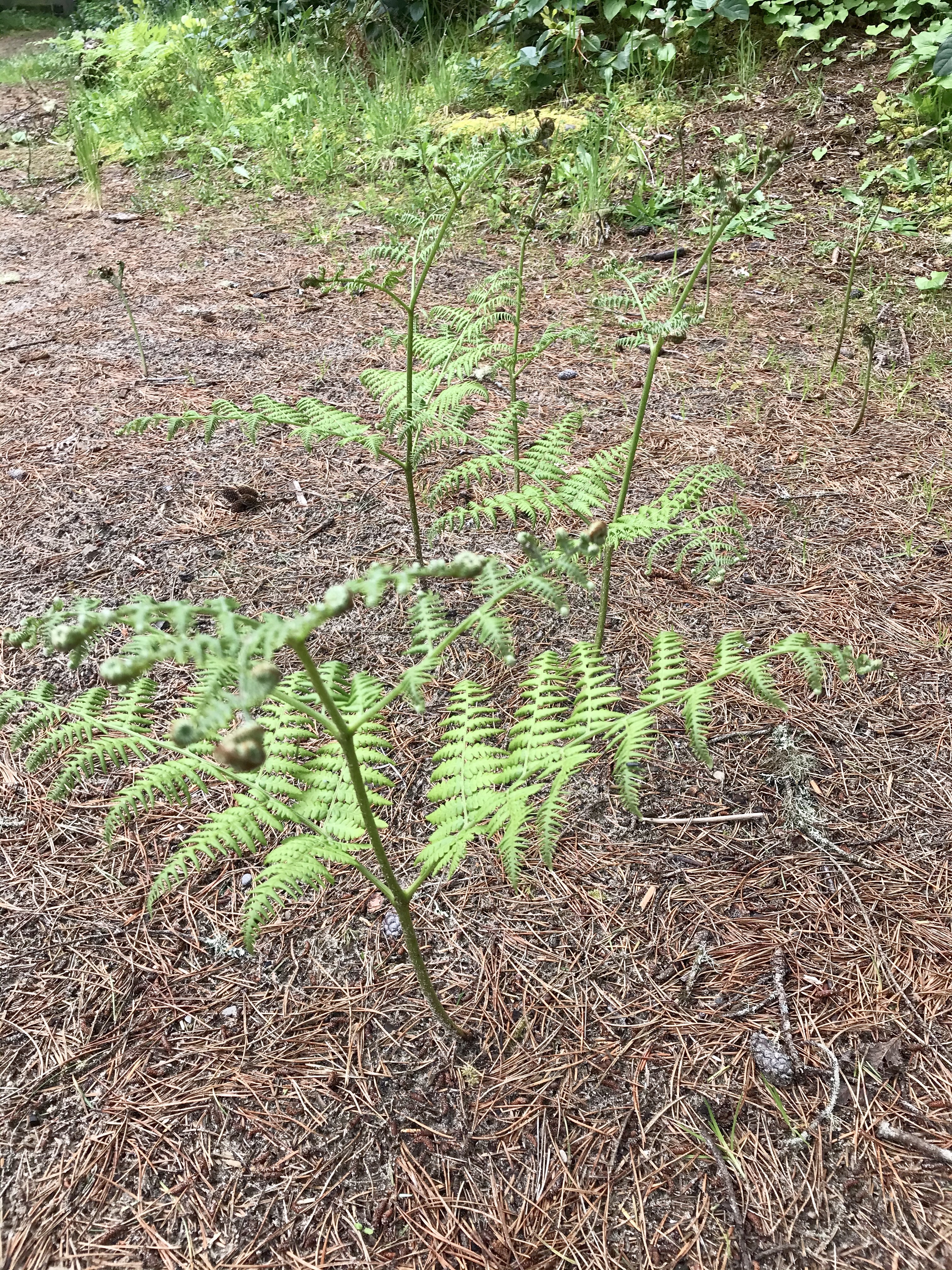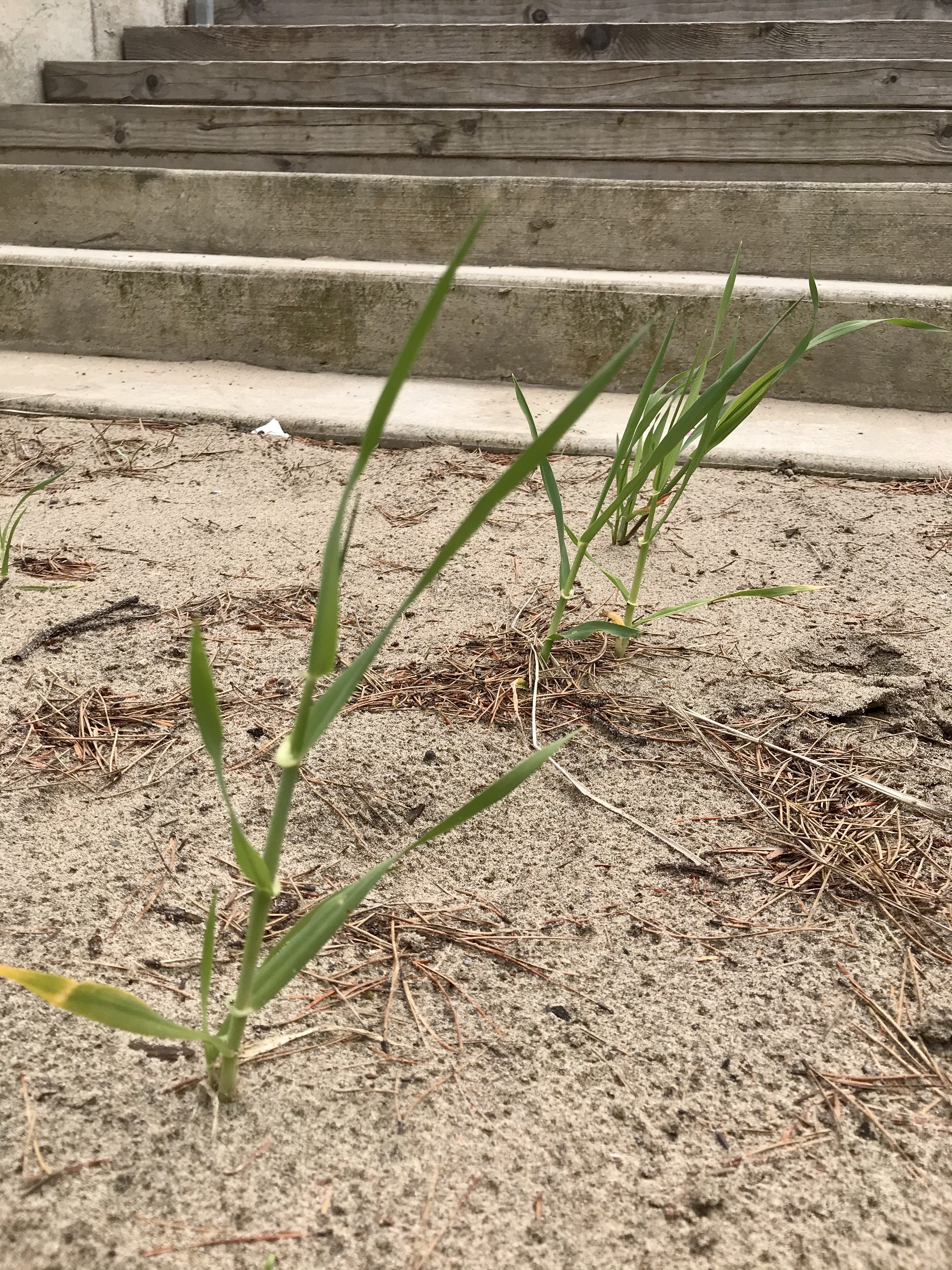 The ocean gave us some interesting sightings and gifts this week.  One was a weaned Elephant Seal pup that showed up on the beach. It was taking a rest on its migration north. Forgive the photo – it's an app that I use to report marine animals to the head of the Marine Stranding Network. It's the easiest way to convey all the information that he needs for his work.  Talking with two surfers this week they reported that they had whales in the surf with them. As they recounted their story I remember in past years seeing this also. I guess everybody likes to have fun and this must truly be a memorable moment for those surfers. With the storm that pushed through, a good pile of trash was washed up. Denali, our Camp director was out for a walk and did a good deed and collected a whole pile.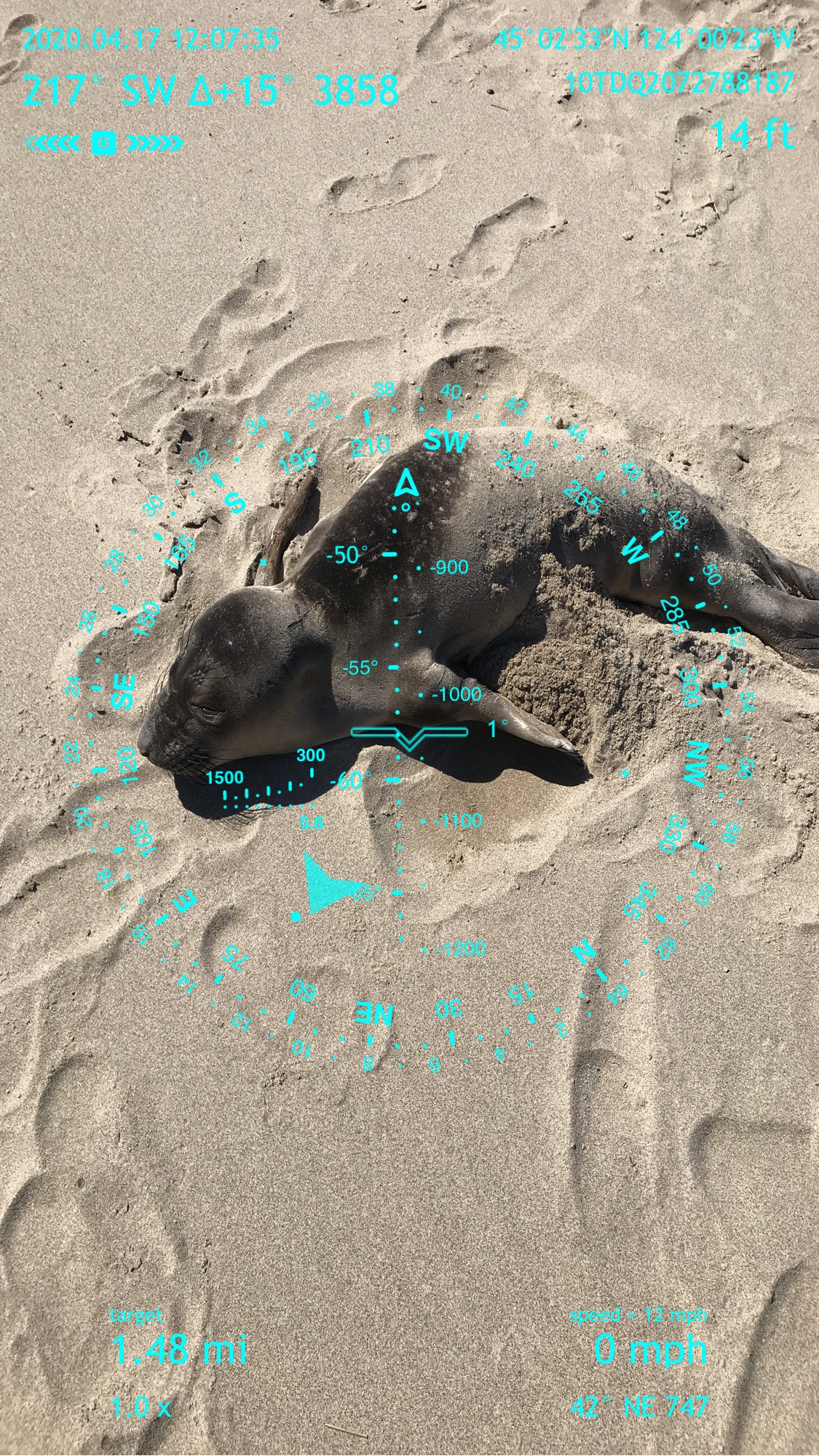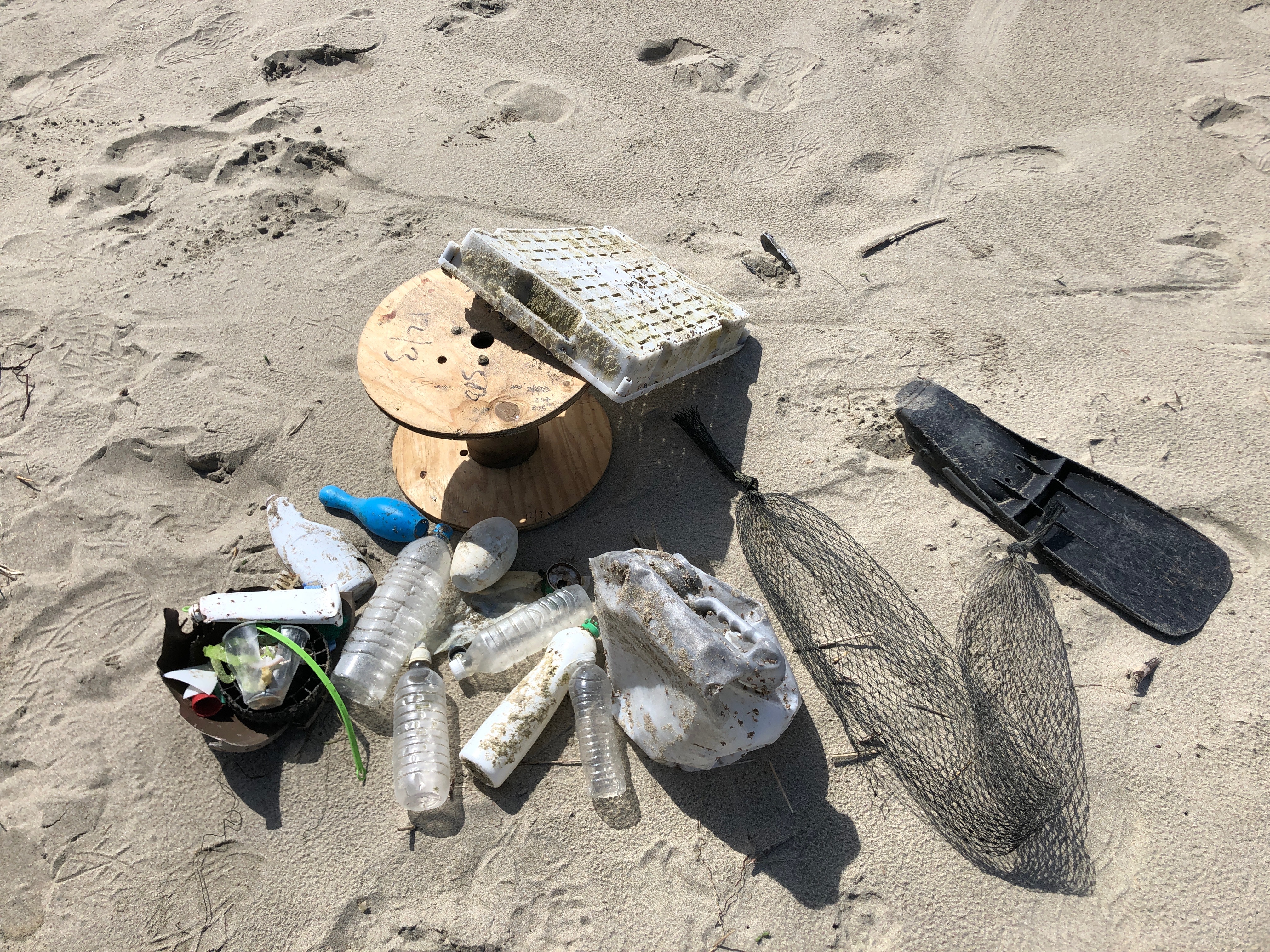 The bird migration continues with sightings of a green heron at Beaver Pond and a flock of Whimbrel, with their long legs and curved bill for feeding in the surf and mud flats. They were definitely recharging the batteries on their way north.
This week also brought us the elderberry bloom and with it soon the bright red berries will form and the birds will key in on them after the Salmon berries are all gone. The wild strawberries bloomed this week. I sure hope I beat the birds to these treats when they are ripe.  The Miners' Lettuce came on strong with this sweet verbena like aroma coming up to greet you on the trail. Not only does it smell good but the leaves are delicious in a salad.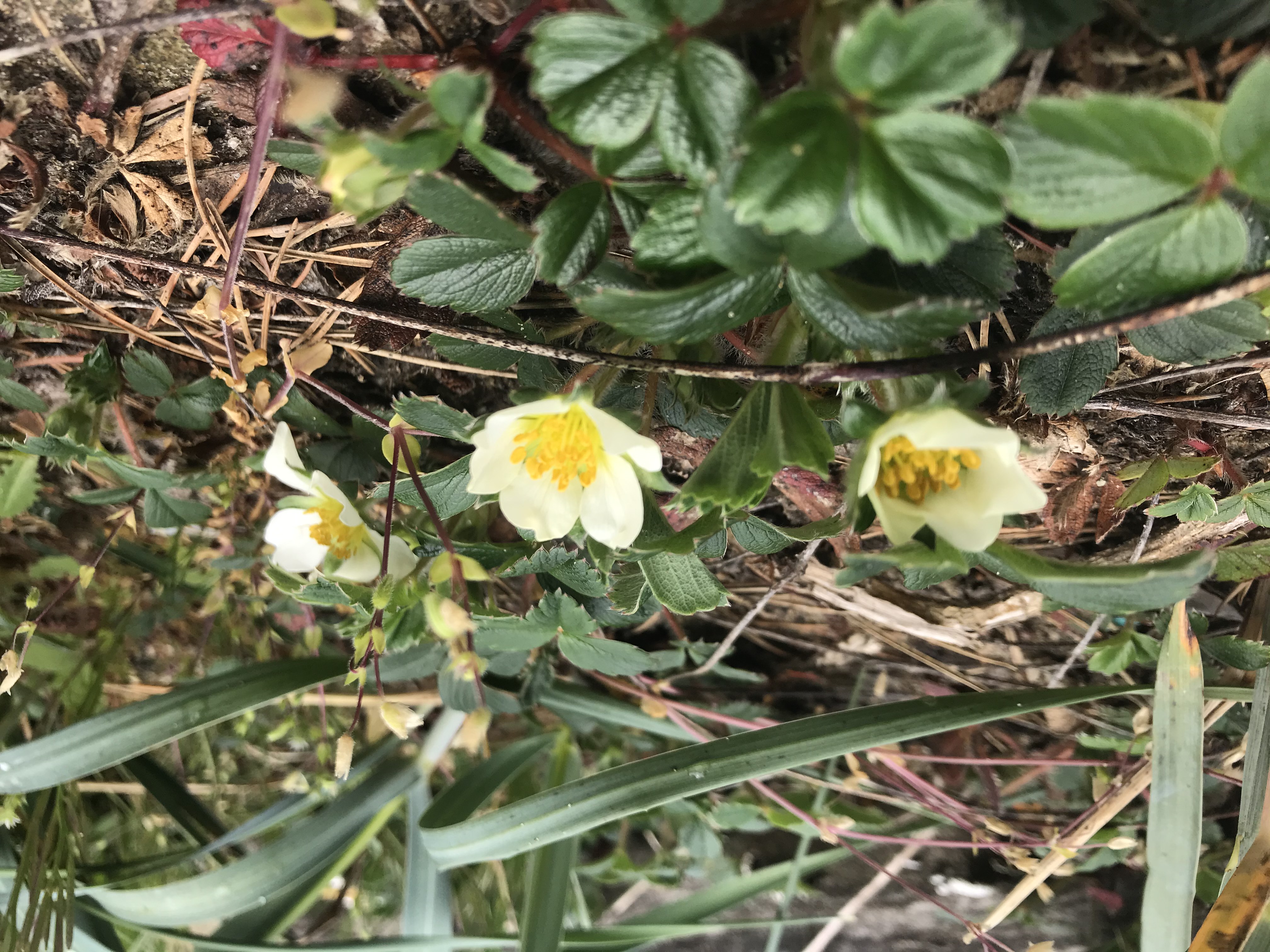 Our community of scavengers is still hanging around. The gift these two sea lions have been giving has been super important the spring. With the lack of visitors the eagles, Turkey vultures, ravens, and believe it or not song birds were all present and accounted for. It's interesting to watch how each takes a turn without much fuss. The song birds have been my favorite to watch as of late as they swoop in to eat the flies and maggots. What a gift for these creatures to have longer than normal this year.
The Elk herd was back this week with the rain. It's always fun to see the calves frolicking in the field playing. They came to hang out in the field as they often do when it rains hard. I think they come out to the open spaces to feel safe since the wind and the rain takes away the use of some of their senses. It gives them a buffer and an advantage against predators. They again left down the road to camp grazing until about halfway when they went South up the hill to another favorite spot of theirs.
As I sit on the deck with the spring sun on my warming face, I find myself being grateful. Westwind gives us so much. Come sit with me on the deck in your minds eye if you want. Feel the sun and hear the surf. Breathe in her salt air and let out your worries. Change is OK.  Soon we will all sit on the deck together taking in all that Westwind has to offer. Westwind need your help!  It's through community that we will all get through this. It's through community that we will keep our bonds strong. It's through community that we will all assure that Westwind will remain here for all of us.