Welcome and Congratulations are in order!
We are so pleased to welcome Westwind's new Site Manager, Brian Klippert to the team. 
Brian brings energy, experience and a enthusiasm to the role, and is excited to start his Westwind journey.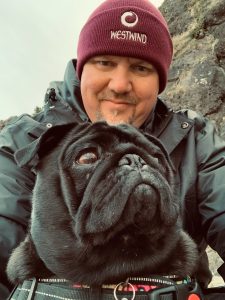 Originally from Akron, Ohio, he moved to Las Vegas, Nevada at a young age. Brian has always been in the technical maintenance field. In Las Vegas, Brian worked on the Technical Management team in the entertainment industry on the Las Vegas Strip.  Wanting a change, Brian moved into the public sector working for a local government agency as the welder for public parks and facilities. Brian has a strong passion for camps. He volunteered at a local residential camp in Las Vegas and ran a non-profit camp with his wife. He is excited about the new adventure that Camp Westwind brings.  
Brian fell in love with Oregon five years ago and is fulfilling his dream of working at a camp on the Oregon Coast. He is excited to call Oregon and Camp Westwind his home. In his spare time, Brian enjoys creating metal art, scuba diving, hiking and walking the beach with his wife and pups.
Welcome, Brian!
Promotions!
Westwind would also like to congratulate two friendly and familiar staff members on their new roles within Westwind. Taina Meadow is now serving as the Operations Director. This role is a newly created position that will add additional capacity to the Westwind site tea  to meet the needs of Westwind's facilities, guest services, and local partnerships. Terry DeJongh has been promoted to Guest Services Coordinator and will be graciously coordinating all our guests' and groups' needs!
Congratulations, Taina and Terry!