On August 1, 2019, we received a phone call at the Westwind office. Two men spotted a large white dog on the beach at Westwind. The scared dog ran away and up the cliff to escape. We called Lincoln County and Tillamook County Animal Control, to report a found dog. Over the next two months, people spotted the "ghost dog" mostly on the beach at first. After awhile, the sightings happened more frequently in and around camp.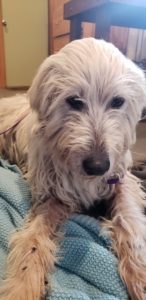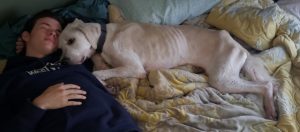 Angelo, our Assistant Site Manager, contacted Lincoln County Animal Control and had them deliver a large live trap. Ghost dog left lots of tracks on the beach, looking for food. We repeatedly set the trap on the beach. The dog left tracks all around the trap and even tried digging the sand away under the trap to steal the food inside. 
We moved the trap to camp, covering it with a blanket. We put padding inside and adjusted the pressure plate. Ghost dog pulled the blanket off the trap and dragged the padding out of the trap, but would not go inside to get the food. Those that caught a glimpse of her in September could see how skinny she had become. 
Terry, Westwind's Guest Services Assistant, started leaving small bowls of food for Ghost dog outside the trap and moving the bowl closer and closer every day. He moved it just inside and then further inside. Finally, on September 29th, he caught her!
The tired pup went home with Taina, our Guest Services Manager, that night, and on September 30th, Ghost was seen by a veterinarian. She did not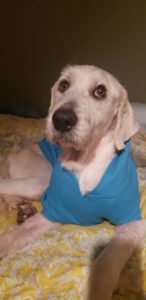 have a microchip and her blood work came back consistent with extreme starvation. Her digestive system was full of sand she had eaten. She collapsed often and refused to walk while leashed. In the first two weeks, we carried her, wrapped in a blanket to cushion her skin and bones, in and out of the house for bathroom breaks. She had anxiety and feared any sounds. We put her on a careful feeding plan to prevent re-feeding syndrome. She ate prescription dog food due to her gastrointestinal issues.
After about a month of recovery, we had her professionally groomed to remove all the matted hair and knots. When we picked her up from the groomer, she was hanging out with two other dogs and a cat. She is very loving and sweet-natured.
In November, she found her voice. She made gentle whining sounds when she wanted attention and started barking and guarding the house.
In December she visited the veterinarian again. She had gained twenty pounds, received vaccinations, had a microchip inserted, and nails trimmed. On December 11th, she had her first visit back at Westwind. She enjoyed meeting all the staff.
Her goals for January are to take lots of beach walks and build up her muscles and learn how to go for car rides. She is healthy, happy, loved, and cherished.