Our beloved Program Director, Janette Kunkel (Pickle), is moving on to an amazing new opportunity! While she will be dearly missed, we are very proud of her success and wish her well on her journey ahead!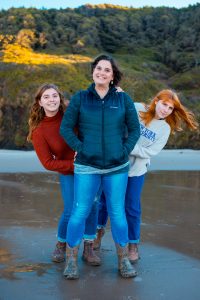 Janette, tell us about this new opportunity! Where are you headed?
I will be joining the Camp Fire Camp Namanu team as the Director of Programs, Facilities and Operations.  Joining Camp Namanu at a time that they are growing and changing is exciting because I get to take everything I have learned at Westwind and apply it at a new camp while learning and growing in an industry that I believe in and love! 
10 years at Westwind is no small feat. What inspired you to stay with Westwind for so many years?
That's 10 years and 4 months….10-4 Westwind! It's hard to not be inspired by Westwind! The place is beautiful and inspiring but for me, it's the people. I am a highly relational person and getting to have an impact on campers and staff is inspiring. They teach me so much and give me hope for the future! It's cliche and we hear it all the time but for me, Westwind truly is magic!
What is one thing you are most proud of?
First of all, there is not one single thing at Westwind that I think I can take full credit for but there is so much in the last ten years to be proud of as part of the Westwind team. The one thing that comes to mind is the outreach and partnerships we have created and maintained.  Westwind strives to be a camp that is accessible to anyone and working to remove those barriers is a passion of mine. We truly are an inclusive camp that anyone can come to and experience a place of acceptance and feel safe and valued. 
What will you miss the most? 
I want to believe that I won't miss the sand dumping out of my shoes and pockets or my chapstick being filled with sand, but the beach at Westwind has been the backdrop to many sunsets, walks and talks with the people there.  It comes back to the people for me! Westwind has become a large family for me. 
Thinking back, what memory always makes you laugh?
As you can imagine, 10 summers of camp which equals thousands of kids provides many stories and laughs. Kitchen raids, polar bear plunges, talent shows, dances, beach parties….there is never a shortage of opportunities to be filled with joy and laugh at camp. One summer, our Sherwood counselors wanted to have a "food fight".  We didn't want to waste food so we got shaving cream and put piles of it on plates and colored it, cleaned out all the tables from the lodge and put on fun music. We thought of everything, or so we thought. The kids came in and were so pumped for it! They grabbed handfuls of colored shaving cream and started throwing it at one another. They were laughing and having so much fun until we realized some of the laughs were turning in to cries.  Come to find out, shaving cream doesn't feel good when it gets in the eyes.  We got it all cleaned up, the kids were still laughing and talking about it with everyone at camp but the staff was cleaning the lodge for hours.  If you look closely on the wood floors, you can still see some little color stains from where we couldn't sand it out. I laughed so hard while the kids were having fun, laughed that we failed to think through all the details and laughed as we were sanding spots on the floor late into the night and I still laugh when I see the spots on the lodge floor. 
Thank you, Pickle!
If you would like to thank Pickle for her 10 years of service to Westwind, consider making a gift in her honor, and your name will be included on a Thank you card from staff, former campers, friends, and volunteers of Westwind.