The Westwind Board of Directors is pleased to announce Westwind's newest hire – Andy Lindberg who will be serving as Westwind's Executive Director! Andy will officially start in mid-June, so in the meantime we wanted to get to know him a little better before he joins the team full time.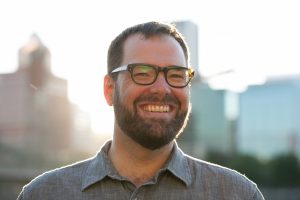 Welcome, Andy!
Can you tell us a little about yourself and what brought you to Westwind? 
I was born and raised in Oregon, and had my first Westwind experience at Mother-Child Camp back in the early 1970's. That set the stage for a career in camps and youth development, most recently at Camp Fire Camp Namanu. I have worked with Outdoor School programs around Oregon, both as a Site Supervisor and as a member of the Board of Friends of Outdoor School. I have also had a career as an actor, spending the better part of a decade living and working in New York City. Throughout it all Westwind has held a special place in my heart.
What excites you about being Westwind's Executive Director?
The place and the people! I have been fortunate to visit some beautiful spots in my travels, but nothing compares to Westwind. It is the Oregon Coast's Greatest Hits album. And anytime I mention Westwind to people their eyes light up and they invariably tell a story about how the place moved them. I am excited to help conserve and maintain Westwind such that more, diverse people can have their own Greatest Hits experience.
What does successful leadership mean to you?
The best leaders I've worked with made me feel valued, and heard. They called forth from me qualities or abilities I had not expected from myself. They also gave me space to be genuine and vulnerable. All this while still maintaining their vision for the organization. I want to go to there!
What is it about camps & outdoor recreation that draw you to this type of work?
I used to say camp was about expanding our world, but I've come to think of it more as making our world more focused. When you first dig in the sand of Salmon River estuary and realize it is alive with ghost shrimp, or you go "star stomping" for the first time on a New Moon, the complexity of the natural world comes clearer. As we learn more we understand our place, and how we are all connected. This connection help build caring, inclusive communities. 
Outside of work, what do you enjoy doing with your time?
I can honestly say I live an interesting life. I'm an actor and musician who has worked around the world. I have hosted a podcast about Oregon history for 10 years and over 100 episodes. I love camping, cooking over a campfire, and snuggling with my adopted French Bulldog Ludwig von Shnorfelhausen. Most importantly I am about to become a father! My partner Kelli and I are expecting our first child any day now!!!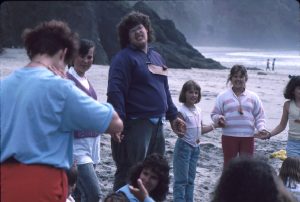 Westwind is made up of a caring and welcoming community of campers, alumni, donors, volunteers, guests, neighbors, partners, and many other supporters. What message do you have for the many voices make up the Westwind community?
My Westwind story started decades ago, and much to my delight has begun a new chapter. I'm so excited to meet you all and hear your stories. Together we can ensure that this place is taken care of and available for others to enjoy for decades to come.