We do camp!
Camp Westwind programs for youth, teens, and families are offered all summer and during various weekends/holidays throughout the year.
Outdoor activities: 

kayaking, canoeing, paddle boarding, snorkeling, hiking, backpacking, river/ocean dipping, nature study/discovery, and free outdoor play amidst the beach, dunes and rain forest.

Team building/group activities: tree climb, challenge course, team building, group camping, sustainable living practice.
Arts activities: draw/paint, beads/macrame, nature art, glass & ceramics (pending), tie-dye, improv theater/talent show, lots of singing!
---
We promote active stewardship and environmental education!
Stewardship, Workshop & Event programs include stewardship weekends, service learning projects and other volunteer opportunities, as well as educational workshops and events. These programs connect  participants to practical knowledge about sustainability, stewardship and living lightly on the land.
Westwind's Rental program allows individuals, families, non-profit organizations or private groups (including weddings) to stay at Westwind in various accommodations for two or more nights (based on availability).
---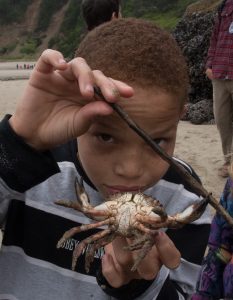 Why we do what we do . . .
We run camps – and in particular Westwind's traditional 6 day youth camp, 4-day family camps, and various other teen leadership programs – because residential camp programs really do foster life-changing outdoor experiences. Camp Westwind builds confidence, community, and conservation values through its engaging programming, inclusive traditions, and unparallelled land and seascape.
We have Stewardship programs, Workshops and Events to answer the call of our mission to 'promote environmental stewardship as a basis for sustainable living.' At Westwind we see Stewardship as a two-way street: stewardship is both an action by humans (who are stewarding nature) and a benefit of nature (stewarding humans!).
Stewardship programs fulfill another critical part of our mission — to conserve the Westwind site in perpetuity — and allow many campers, students and other guests become active stewards in their own right by helping fulfill the perpetual need for conservation and ecological restoration. And we design workshops (educational camps or day programs) for those wanting to learn more deeply about natural history and the larger ecosystem in and around Westwind.
We offer Westwind rental packages for specific non-profit and private groups because the very act of living at Westwind – of following its rules for recycling, composting, minimal motor use, energy conservation, and ardent respect for wilderness – accomplishes both mission points of fostering life-changing outdoor experiences for the rental participants and promoting environmental stewardship as a basis for sustainable living.