Westwind is growing our Program Team!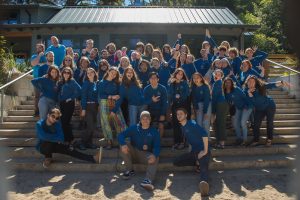 Do you want to help guide Westwind's programming? Do you have a passion for youth development, the power of volunteers, and the environment? Join our team as Program Coordinator.
The Opportunity: The Program Coordinator works to further Westwind's mission through the planning and delivery of programming at Westwind and the coordination of volunteers. They will assist the Program Director in program development and delivery, staff training, and the management of overall program operation at the direction of the Program/Camp Director. The Program Coordinator serves as the lead staff member in coordinating Westwind's Volunteer program.
Please note: The Program Coordinator will divide their time between the Portland Office and Westwind, living and working on-site at Westwind during programming (3-4 months a year), with temporary housing provided when at camp.
Job Title: Program Coordinator
Classification: Full Time – Salary, Exempt
Reports to: Program Director
Salary Range: $48,000-$50,000
Essential Job Functions
Serve as acting director when Program Director is unavailable.
Partner with Program Director in directing camp programs in accordance with local/state/federal guidelines, Westwind policies, and ACA standards including but not limited to risk management, inclusion practices, and staff management
Takes leadership role in implementing inclusive, innovative, and engaging programming that honors Westwind history while also advancing programming to meet the needs and values of our organization and community.
Help with program logistics such as registration, training, transportation, announcements, lodging, communication, etc.
Collaborate with all departments to identify available opportunities and needs for volunteers.
Lead recruitment of volunteers to fit identified roles using a variety of resources and techniques.
Maintains files, records, applications, and other data concerning volunteer programs including reports on all individual and group volunteer activities, number of volunteers, number of hours, and in-kind contribution value of service.
Most of the year position is based in Portland, Oregon with frequent trips to our facility on the Oregon Coast. During our summer programs this position is based at our Oregon Coast location.
Download the job description HERE. Open until filled.
To apply contact Westwind Program Director Laura Chase laura@westwind.org